Identity Compass® Consultants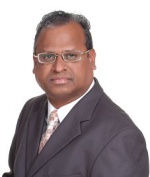 Tindivanam Sriramulu Murugavel
Mr Murugavel, is an Executive & Leadership Team Coach, Consultant, Mentor, Professional Speaker and Trainer.

He is a Meta Coach and is the Current Regional Director for Meta Coaching Federation, Singapore – affiliated to International Society of Neuro-Semantics and International Meta Coaching Federation.

He is also a VISTAGE Chair in Singapore. Vistage is the Leading International Private CEO advisory board bringing benefit to about 20,000 CEOs and Senior Executives worldwide.

Besides, he has more than 33 years of experience in the Process Automation industry working on various positions in Engineering, Project Management, Operations Management & General Management areas. He has managed project operations of about US$250 million with a project workforce of about 700 people spread across various countries in Asia Pacific.

He has many professional memberships and certifications including
•    Project Management Professional (PMP) from PMI, USA
•    Member of Association of Project Management (APM), UK
•    Certified Training Practitioner (CTP) by CIPD, UK
•    Accredited Competency Professional by SMR, Malaysia
•    Business Excellence Consultant certified by PSB, Singapore
•    Member of International Coaching Federation
•    Member of International Society of Neuro Semantics
•    Member of International Association of Facilitators

He has executed global projects for major global customers covering the entire globe and is widely travelled. He has more than 20 years of experience in Project Management, Operations Management and General Management.
He has helped many companies develop Global Project Management Manuals and Processes improving the Operational efficiency and effectiveness. He has helped companies develop Strategic Plans and helped them grow by mentoring them in the Strategic Implementation process.

Mr. Murugavel has been providing Training & Consulting services in Project Management, Strategy Management, Business Excellence Framework Implementation services and Leadership development for the last 8 years.


SWRV MetaCoaches Pte Ltd
3, Ubi Road 1, #09-55, Oxley Bizhub,
Singapore 408733

0065-90103273
Send us an email with the following form