Identity Compass® Consultants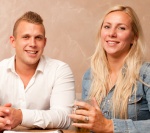 Mens & Werkplezier
Werk is een groot onderdeel van je leven, dus is het belangrijk om plezier te hebben in je werk. Of je nu werkgever of werknemer bent. Wij zijn ons bedrijf gestart om bij te dragen aan meer werkplezier voor iedereen! Daar werken wij met veel plezier aan! Dit doen wij bij ons aan de houten keukentafel of bij jou op de werkvloer.
Werkgever: Wil jij met plezier werk geven? Werknemers behouden en de juiste werknemers aannemen?
Werknemer: Wil jij meer plezier in je werk? In jouw huidige werk of wil jij nieuw werk?
Wij werken samen met werkgevers en met werknemers en samen zorgen we ervoor dat het werkt.
Glenn & Nienke van den Berg

Mens & Werkplezier
Boslaan 2
2671DA Naaldwijk

+31 6 11 121 684
Send us an email with the following form